While some advocate by lobbying their congressmen, or asking for meetings with industry-leading executives, one neurodiversity advocate has done so by an entire different means: the power of the pen. Through numerous essays, interviews, and an adamancy that neurodiverse individuals should be embraced from unique gifts, Steve Silberman has become one of the leading authors championing the neurodiversity movement.
Silberman's journey started when he received a degree in psychology from Oberlin College and a subsequent master's degree of English from Berkeley. In 1979, Silberman moved to San Francisco where his career as a science writer took off. His work has appeared in Wired, the New York Times, the New Yorker, the Financial Times, the Boston Globe, the MIT Technology Review, and Nature, among other publications. However, when his 2015 book Neurotribes: The Legacy of Autism and the Future of Neurodiversity, was published, his role changed from a science writer to a neurodiversity advocate.
After publishing Neurotribes in 2015, Silberman's role as a neurodiversity advocate blossomed. He was invited on radio shows, wrote blog articles, and maintained a message that neurodiversity is a strength no matter how it may appear. One such way he does this is by resisting the "high-functioning" and "low-functioning" labels neurodiverse individuals often receive. His rationale behind this is that "high-functioning" individuals often face struggles that they are able to cover up with a certain talent, and "low-functioning" individuals often have talents that are masked by their struggles. By truly adopting neurodiversity as a spectrum where attention should be given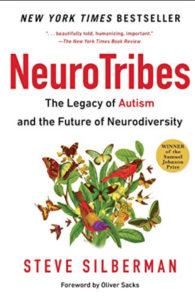 to each individual, Silberman's advocacy will help provide the next generation of neurodiverse individuals with the best instruction they can receive.
More controversially, Silberman has been a strong voice of opposition against Autism Speaks. His criticism is driven by the majority of Autism Speaks' research money which is devoted to finding a cure for the condition, and a very small percentage of money being devoted to helping improve neurodiverse individuals' lives. In a blog post, Silberman compares Autism Speaks' hierarchical organization to a world where, "the leadership of the NAACP was all-white." Even though there has been resistance to his criticism, Silberman's views to improve the lives of neurodiverse individuals has not wavered.

In addition to being outspoken over the airwaves, Silberman has masterfully used Twitter where he has approximately 93,000 followers. In 2011, his Twitter prowess and effective advocacy was recognized when Time Magazine recognized him as having one of the 140 best Twitter accounts as one the the 10 awardees in Health and Science category. While is scope as an advocate was solidified with his 2015 book publication, his roots emerged in 2011 on Twitter.
Steve Silberman has tremendously helped spread the true meaning of neurodiversity through his written work and by changing how advocacy is viewed. He has also introduced ideas of his own like dropping the high and low-functioning labels in order to provide proper instruction to all neurodiverse individuals and exposing certain hypocrices in how organizations like Autism Speaks operate. Overall, Silberman has been a dedicated neurodiversity proponent, and his effort is making the world more inclusive for all.